Life is Weird.
Read Books.
Here are some cool ones...
---
The Swallows of Lunetto
by Joseph Fasano
From Joseph Fasano, the acclaimed author of The Dark Heart of Every Wild Thing, comes The Swallows of Lunetto, the powerful story of a young couple's escape from Italian fascism at the end of the Second World War.
376 PAGES | FICTION | 5.5" BY 8.5"
---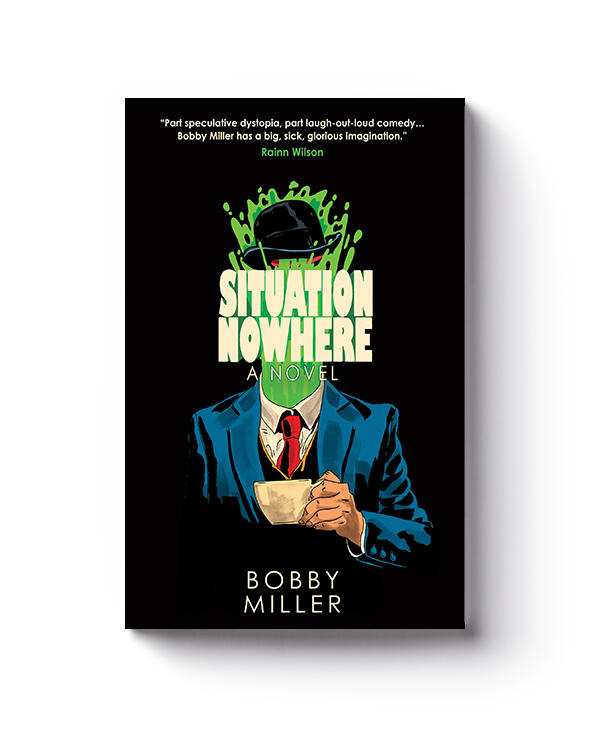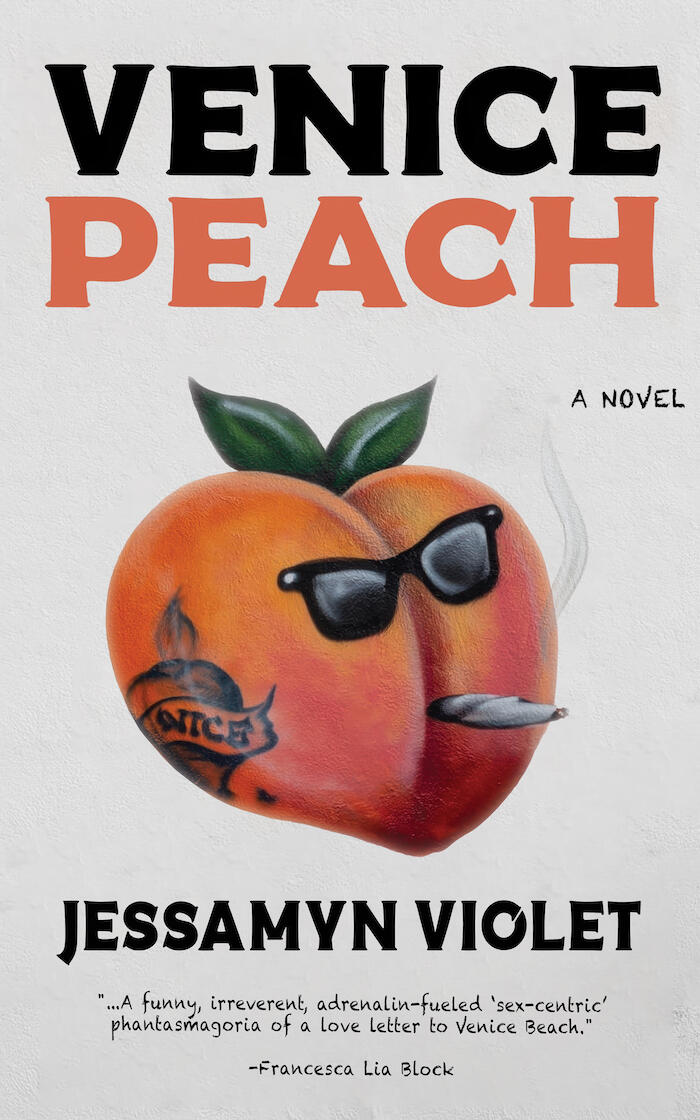 ---
Creole Conjure
by Christina Rosso
Every city has a story.Behind the veil of tourism, New Orleans drips with hunger, sorcery, and secrets. One of those is Honey Island Swamp, a powerful nexus of magic outside the city limits. Its blue-green water can make you ageless and manifest carnivals out of thin air. Similar to the River Styx, it serves as the gateway between the realms of the living, dead, and in-between. And because of this power, it becomes both a haven and a battlefield for witches, humans, and other magical beings.
214 PAGES | SHORT STORY COLLECTION | 5.5" BY 8.5"
---
---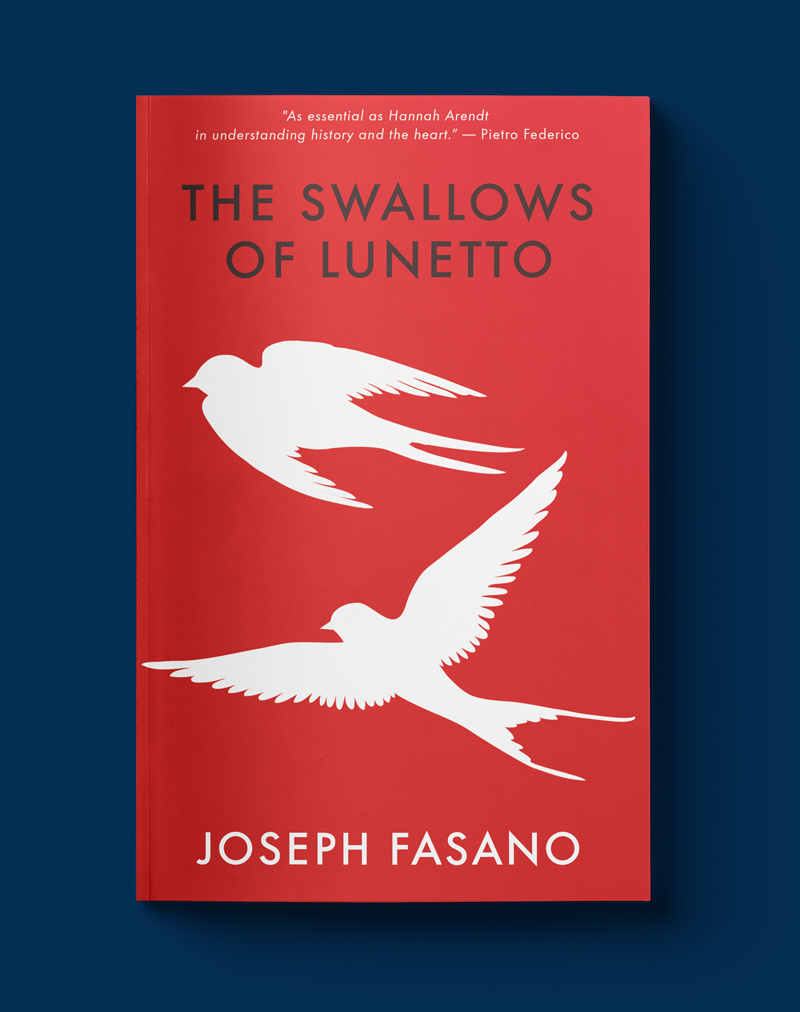 The Swallows of Lunetto
by Joseph Fasano
From Joseph Fasano, the acclaimed author of The Dark Heart of Every Wild Thing, comes The Swallows of Lunetto, the powerful story of a young couple's escape from Italian fascism at the end of the Second World War.
376 PAGES | FICTION | 5.5" BY 8.5"
"As essential as Hannah Arendt in understanding history and the heart."-Pietro Federico"This journey through Italy of the 1940s, with its terror of fascism and its historical reckoning, is especially meaningful in this moment, reminding us of our own terrifying, impossible world. Fasano is a writer of special, different bravery, and The Swallows of Lunetto is a dream of a book."—Ilya Kaminsky, author of 'Deaf Republic' and 'Dancing in Odessa'"I am in awe of the great ethereal wisdom that is at the core of this journey. To read The Swallows of Lunetto is to step into a sensual, sea-woven and brutal world of war and its aftermath. As a son returns, as mothers grieve, as swallows glide, and history compiles, the novel asks what it means to forgive, what it means to love and create. Fasano's prose is alive with the ancient and archetypal as it battles with the present moment."—Andrés Cerpa, author of 'The Vault'"One could argue that our strongest social awakenings happen when the past collides painfully with the present. This is exactly what happens in Joseph Fasano's The Swallows of Lunetto. Reading this novel is both necessary and uncanny, as it draws parallels between historical Calabria and the modern world. And yet we are carried so gently through this story by Fasano's lyricism. Yes, this is a novel, but there is poetry running through every scene, every moment, every conversation. This book strikes the perfect balance between taking humanity to task and reminding us of our beautiful possibilities."—Taylor Byas, author of 'I Done Clicked My Heels Three Times'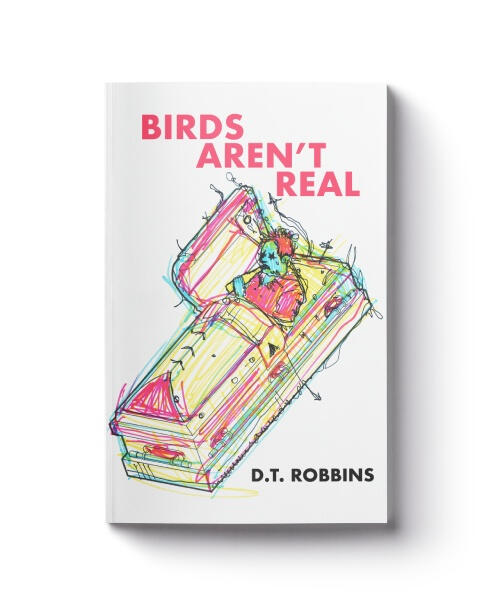 About the author
---
Joseph Fasano is the author of the novels The Swallows of Lunetto (Maudlin House, 2022) and The Dark Heart of Every Wild Thing (Platypus Press, 2020), which was named one of the "20 Best Small Press Books of 2020." His books of poetry include The Crossing (2018), Vincent (2015), Inheritance (2014), and Fugue for Other Hands (2013). His honors include the Cider Press Review Book Award, the Rattle Poetry Prize, and a nomination for the Poets' Prize, "awarded annually for the best book of verse published by a living American poet two years prior to the award year."Fasano's writing has appeared in The Times Literary Supplement, The Yale Review, The Southern Review, The Missouri Review, Boston Review, Measure, Tin House, The Adroit Journal, Verse Daily, PEN Poetry Series, American Literary Review, American Poetry Journal, and the Academy of American Poets' poem-a-day program, among other publications. He is a Lecturer at Manhattanville College and a Professor of Creative Writing at Columbia University, and he serves on the Editorial Board of Alice James Books. He is also the founder of the Poem for You Series, and his latest project is a "living poem" for his son that he is live-tweeting on Twitter at @stars_poem.
---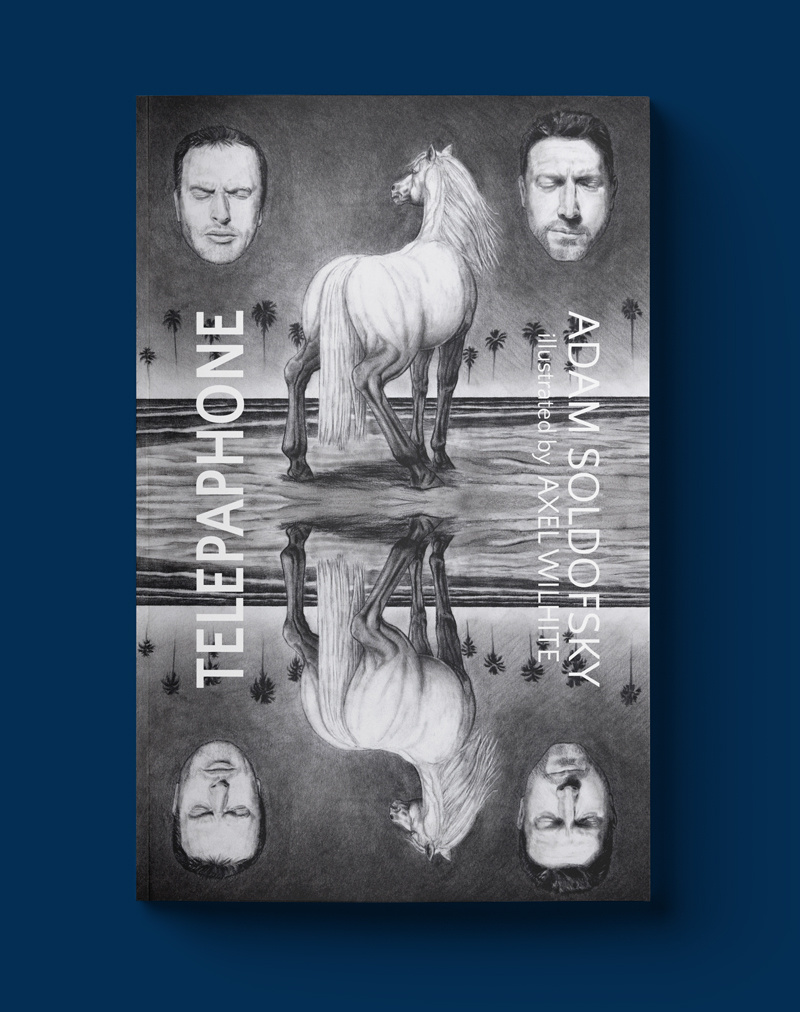 Telepaphone
by Adam Soldofsky
with illustrations by Axel Wilhite
A book about friendship, covetousness, love, depravity, self-destruction, art, dreams, freaky magic, and Los Angeles.
78 PAGES | FICTION | 5.5" BY 8.5"
Adam Soldofsky
---
Adam Soldofsky is the author of Memory Foam (Disorder Press), recipient of the American Book Award. His cartoon series "Signs and Wonders" appears regularly on the Maudlin House website. He lives in Concord, CA.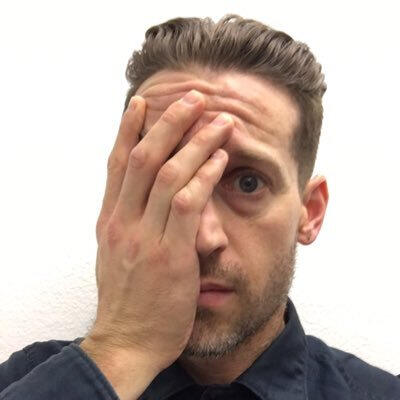 Axel Wilhite
---
Axel Wilhite has shown his artwork in the United States, France, the Netherlands, and Taiwan. He is a co-founder of 7x7.la, an online magazine that facilitates and publishes creative collaborations between artists and writers. He lives and works in Los Angeles, California.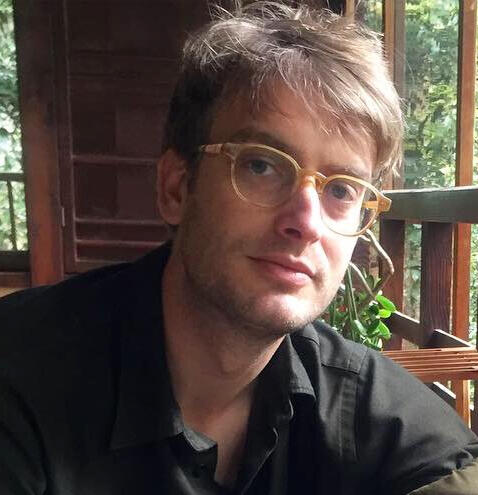 ---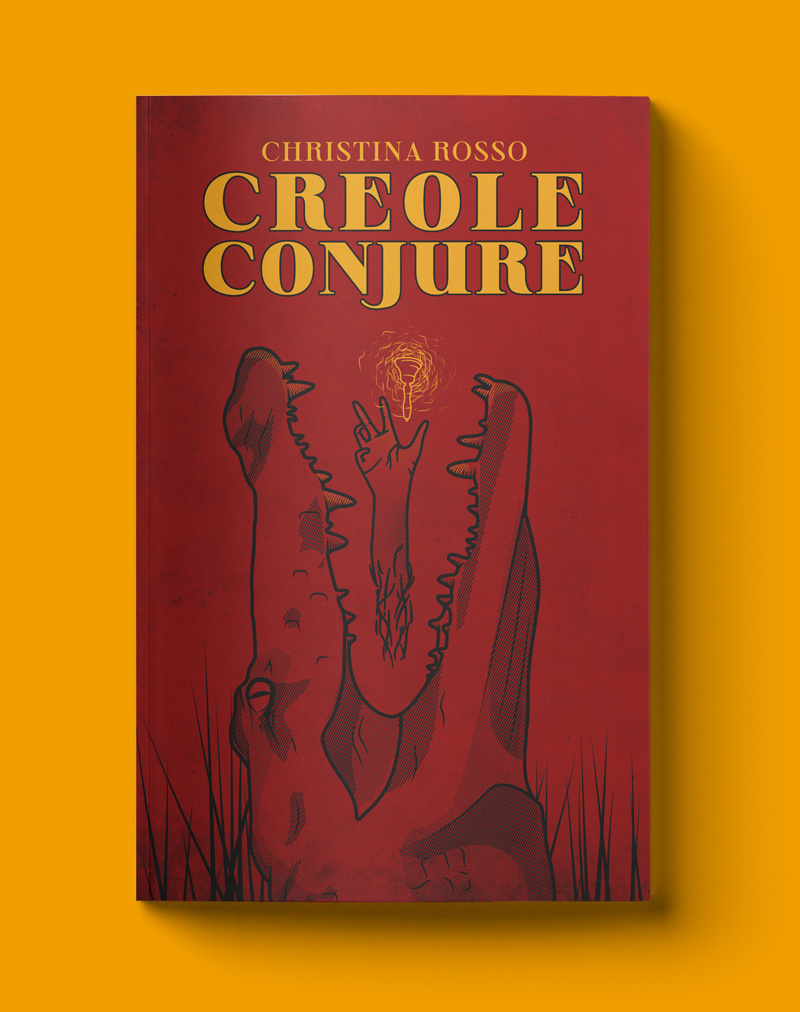 Creole Conjure
by Christina Rosso
Every city has a story.Behind the veil of tourism, New Orleans drips with hunger, sorcery, and secrets. One of those is Honey Island Swamp, a powerful nexus of magic outside the city limits. Its blue-green water can make you ageless and manifest carnivals out of thin air. Similar to the River Styx, it serves as the gateway between the realms of the living, dead, and in-between. And because of this power, it becomes both a haven and a battlefield for witches, humans, and other magical beings.
214 PAGES |SHORT STORY COLLECTION| 5.5" BY 8.5"
---
"So much of the brutal, beautiful magic of Christina Rosso's Creole Conjure is in its intricate details and how deftly they weave themselves together into a seductively monstrous, fairytale tapestry. Each one of these stories is inextricably intertwined with its sister stories-each a single coiled snake on the head of the well-groomed Gorgon. Strands of the old-world fairy tales we know are braided with the new-world characters and landscapes. In Rosso's darkly dreamy New Orleans and lush swamplands, women and girls find themselves both freed and dammned by their own bestial appetites. You can't be certain from one moment to the next who will be devouring whom."– Lindsay Lusby, author of Catechesis: a postpastoral
"Creole Conjure is one of the most original and imaginative books I've read in a long, long time. It's dark, violent, empowering, sometimes downright hysterical, and packed with enough magic and New Orleans lore you'll want to hop a plane down south with only this book as yout huide. Rosso's new collection belongs on every reader's shelf-and I wouldn't be shocked if it finds its way into a cobwebby, cauldron-bubbly occult shop near you."– Nick Gregorio, author of With a Difference and Good Grief
"Rosso weaves a rich tapestry of characters and experiences set in her otherworldly vision of New Orleans with these interconnected stories. Each piece lures the reader into some dark corner of the city or its surrounding swamps to introduce them to the local residents, whether they're a swamp siren, an overworked voodoo doll, or an usher of the newly dead. Rosso crafts even the unlikeliest of characters with care, giving nearly as much fascinating depth to a talking alligator as she does an all-powerful swamp witch. While magic and the supernatural abound in these stories, the histories and experiences of these characters are often harsh realities that give the collection a socially critical and progressive focus."- Nicholas Perilli, author of Cul-de-sac"Rosso's collection invites us to think about our own humanity - and what it means to be alive and how to live our lives. In particular, the lessons learned in each of these stories aren't always easy to swallow, but ultimately call us to live in a better world, starting with our small actions. I care about the characters in the stories, literally sitting at the edge of my seat wondering what the next page will bring, and what will happen to them. Rosso is a true master of suspense."-Joanna C. Valente, author of A Love Story and other books"In crafting Creole Conjure Christina Rosso brings equal parts imagination and an introspective eye against the backdrop of the familiar and fantastical . With witches, with sirens, with a profound darkness and buoyant light these tales will entrench you in the most wonderful kind of chaos."- Charlie J. Eskew, author of Tales of the Astonishing Black Spark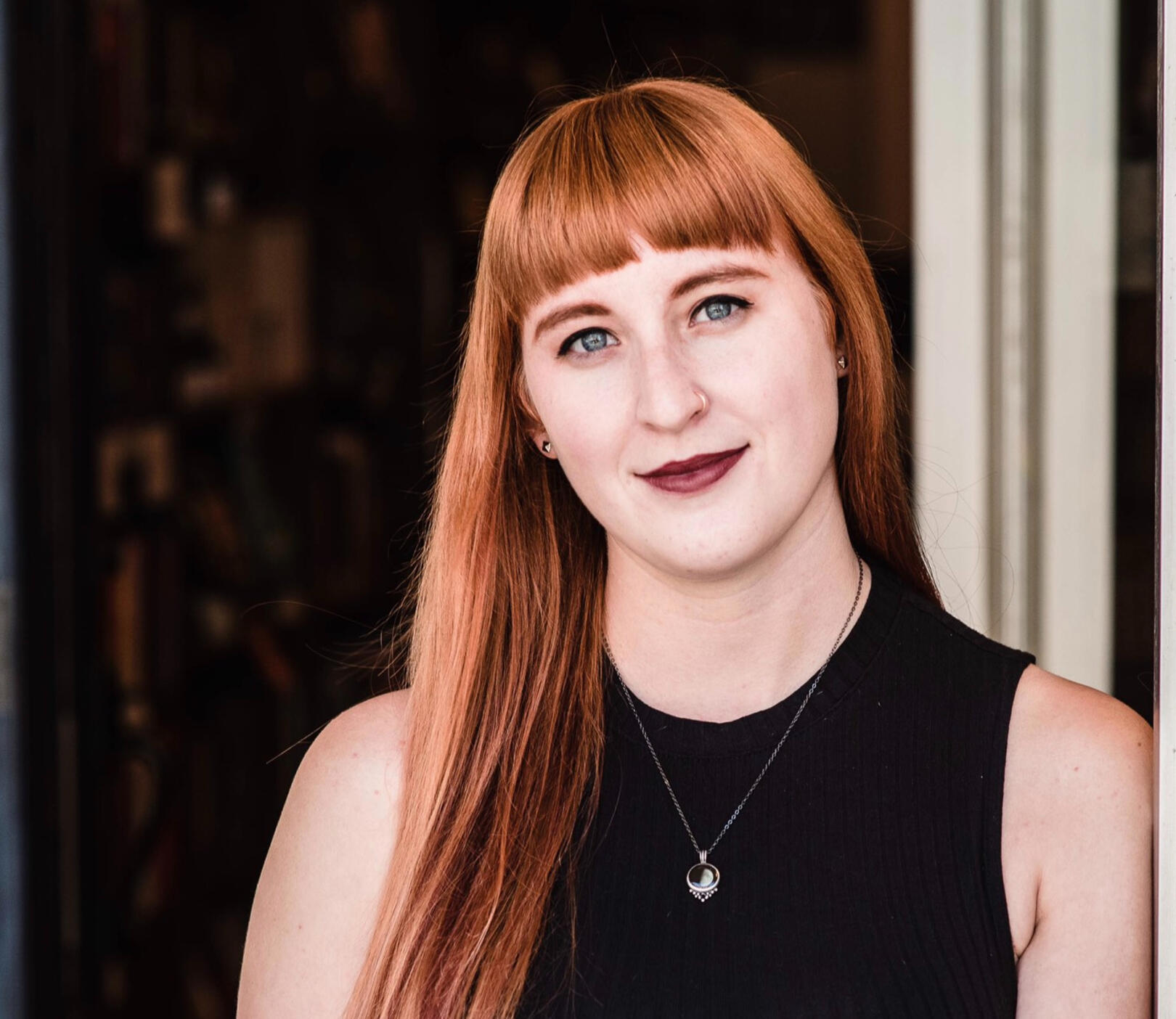 About the author
---
Christina Rosso-Schneider lives and writes in South Philadelphia with her rescue pup, Atticus Finch, and bearded husband, Alex, where they run an independent bookstore and event space called A Novel Idea on Passyunk. She received an MFA in Creative Writing and MA in English from Arcadia University in 2016. Her debut chapbook, SHE IS A BEAST (APEP Publications), was released in May 2020. CREOLE CONJURE, her first full-length collection, is forthcoming from Maudlin House. Her fiction and nonfiction work centers around gender, sexuality, and fairy tales, and has been nominated for Best of the Net, Best Small Fictions, and the Pushcart Prize. When she isn't writing or working at the bookstore, she leads various writing and occult-based workshops. Check out the events page to get information on upcoming readings and workshops.
---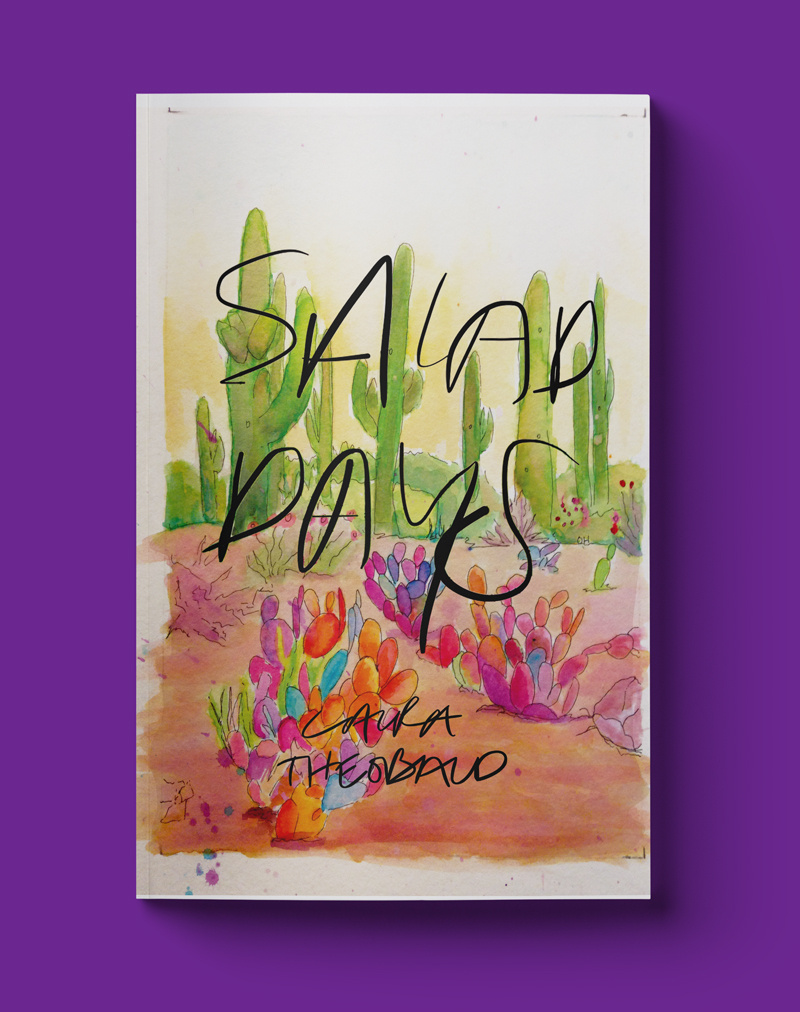 SALAD DAYS
By Laura Theobald
A portrait of the artist at the brink of self-actualization, Salad Days is a vulnerable and evocative study of identity. Its seven sections of thirteen poems each—"Waves of Confusion," "Moon Unit," "Art for the Afterlife," "Future Moods," "Double Fantasy," "Infinite Sadness," and "Sour Times"— describe its melodic and mood-based movements. This is a book that pops—that celebrates weirdness and leans into fantasy. If it were a movie, it would be a dark comedy; if it were a song, it would be New Wave. As a poetry collection, it transcends genre. It's meta, sardonic, messy, effortlessly joyful, and blithely relatable. Salad Days mines life's dry and youthful indiscretions and relates them in these sharp and cheeky poems.
130 PAGES | POETRY COLLECTION | 5.5" BY 8.5"
---
"This is my favorite kind of poetry: dry, real, hilarious, sharp, surreal, poignant, unapologetically itself. Laura's singular charmingly unmoored voice offers surprise after surprise in this collection. I started copying and pasting my favorite lines into an email draft, which quickly turned into copying and pasting entire poems, before I realized I'd soon have an email draft containing an exact copy of the book. Salad Days is 'a planet nobody asked for'–like how the best gifts aren't requestable–a life-giving planet for self-conscious folks with thirsty imaginations, accessible only by reading. It's a love letter to the future–not the kind of love letter that gushes with promises and pathos, the kind that arrives after truly knowing the faulted gritty humanity of another with whom you can be nothing but honest. If you lurk on social media and silently lament, 'where did all the interesting stuff go, isn't anyone doing anything new anymore,' this is the book for you."– Megan Boyle, author of Liveblog and Selected Unpublished Blog Posts of a Mexican Panda Express Employee"I don't usually like poetry. 98% of poetry is overwrought and academic and boring. But Laura Theobald is mad (like Sylvia Plath mad, not the other kind) which makes her poetry different, in the way a mad woman's voice is always a little different. In a way I like. In a way that intrigues me. Listen to her."– Elizabeth Ellen, author of Person/a and Her Lesser Work"Are you sure you can call it poetry if it is this fun and cool? This is a stunning collection that gives equal respect and curiosity to the simple and profound dramas of human life. I felt very uplifted reading it. Several times I thought, 'I should get this poem tattooed on me' and I do not normally think things like that. I think I just wanted ownership of the poems. Salad Days gives attention to the quiet moments and the cartoonish ones, and the people we lust over and the people who are ruining the world. It is delicate and unflinching and effortless and fun and so, so important."– Chelsea Martin, author of Caca Dolce and Even Though I Don't Miss You"Laura Theobald's Salad Days speaks to everyone 'invested in a life of destruction.' At times a conversation and at others a secret rumination on purpose and desire that the reader feels privy to, Theobald's poetry sits at the intersection of lightness and heaviness—each poem building like the ticking of a time bomb. It is often the case that one must self-destruct in order to begin again; Laura's poetry asks what it means to be the 'bomb.'"– Erin Taylor, author of Bimboland and Arts Editor at Observer"Something about Salad Days reminds me of Emily Dickinson—if Emily were hornier and funnier. The poems have the kind of specificity that allows them to feel universal, like some beautiful, demented collective dream. Laura Theobald really is one of the best poets we have."– Juliet Escoria, author of Juliet the Maniac and Black Cloud"Swerving, honest, & exuberant, the poems in Salad Days document a continual knotting of simile & metaphor. The book's self in each poem is compared to some new thing, revealing the incessant reinterpretations & positionings that the lyric mind demands of a life. Laura Theobald makes poetry look easy, how a sudden slice across the finger while chopping onions makes blood look easy.– Mathias Svalina, author of The Depression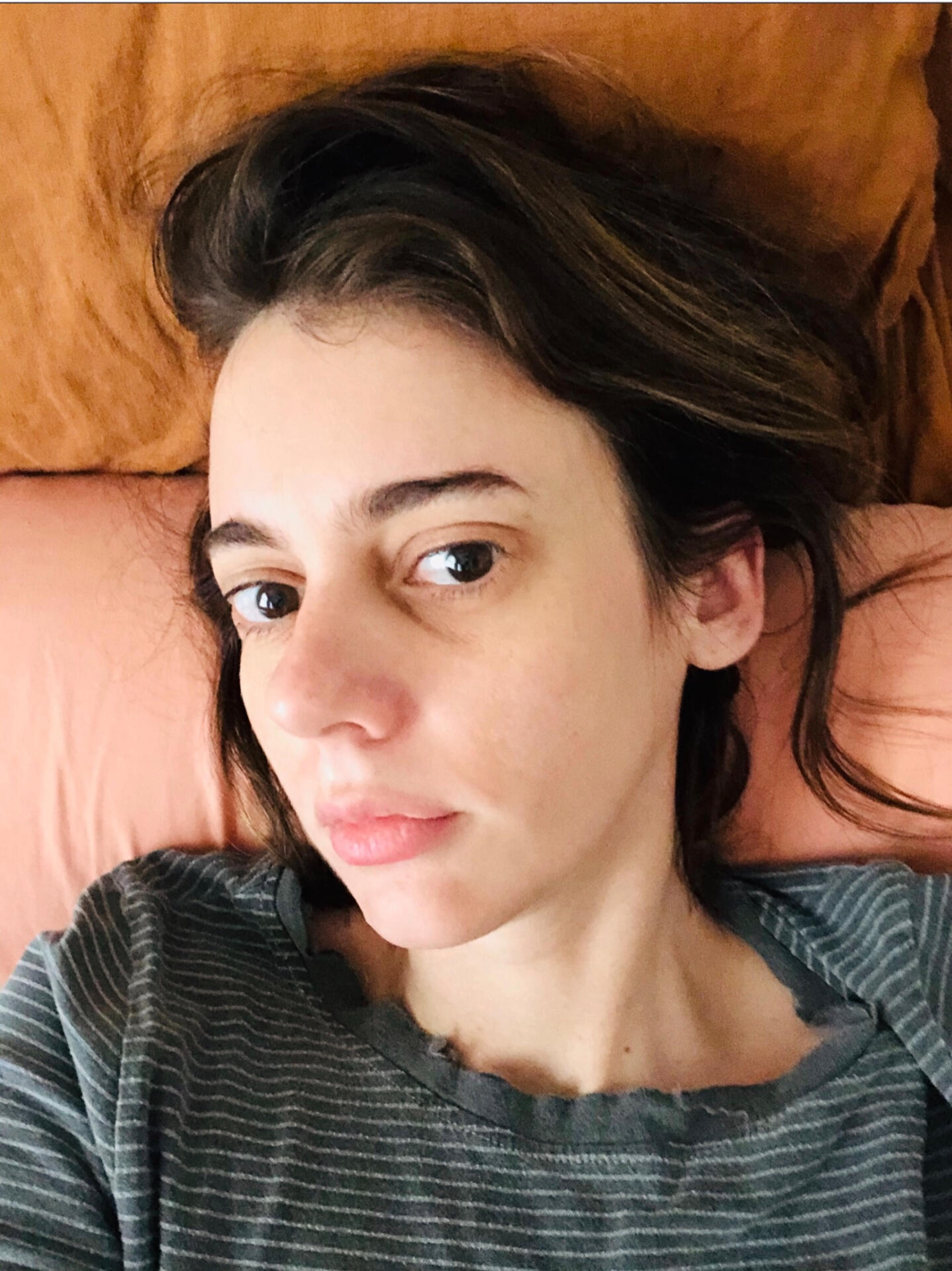 About The Author
---
Laura Theobald is a PhD student in English at UGA in Athens. She's the author of three books of poetry: Salad Days (Maudlin House, 2021), Kokomo (Disorder Press, 2019), and What My Hair Says About You (Metatron Press, 2017), and three chapbooks. She received an MFA from LSU, where she served as the editor of the New Delta Review, and continues to design books for small press publishers. Her poetry has appeared in jubilat, The Volta, Peach Mag, The Atlas Review, Everyday Genius, and Black Warrior Review, among others, and in the anthology Women of Resistance. Her criticism has appeared on The Harriet Blog. She's on Twitter and Insta as lidleida.
---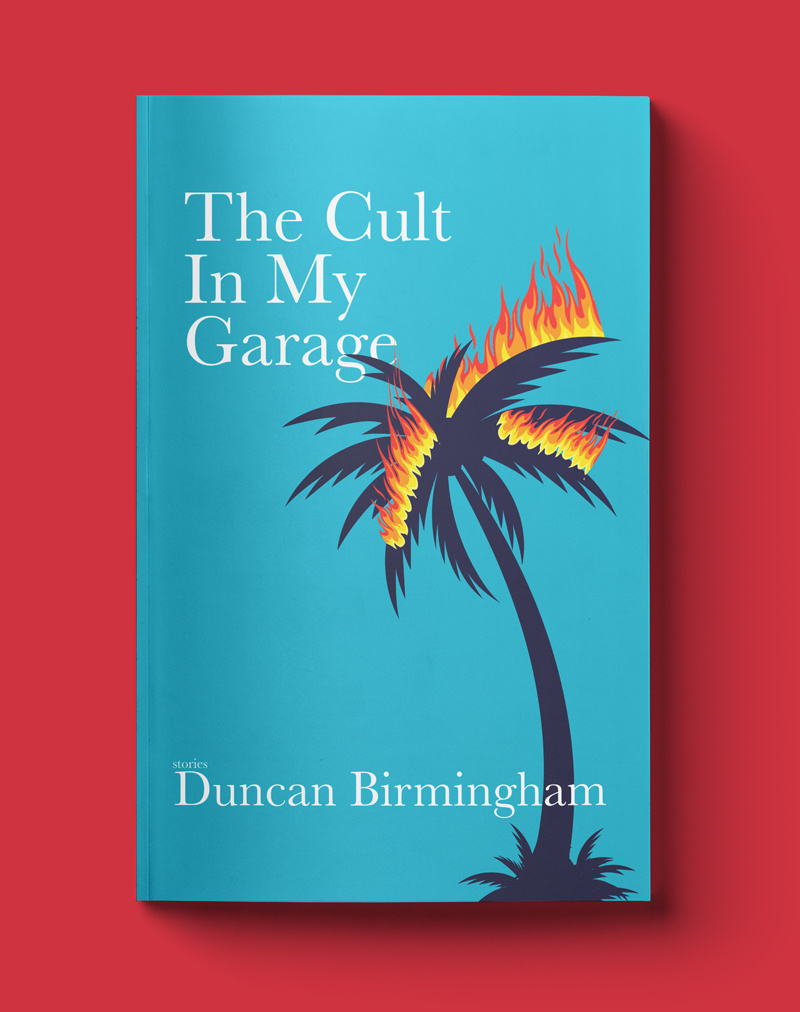 The Cult In My Garage
By Duncan Birmingham
An office worker hopes a new drug will remedy her toxic personal life... A food blogger moonlights as a detective to give meaning to his gluttony… A rehabbed addict proselytizes with an increasingly bizarre methodology… Lovesick strangers try to heal through a dating app that promises a unique form of catharsis... A quarantined man starts having vivid dreams he's convinced aren't his own... At a party where everyone's "somebody" the crowd grows feverishly reverential of one guest's anonymity...In the prescient world of 'The Cult in My Garage', the characters are desperate for meaning and hungry for connection. Time and again, their attempts at betterment snowball into disaster or backfire spectacularly. And yet they still find ways to dust themselves off and salvage meaning.
172 PAGES | SHORT STORY COLLECTION | 5.5" BY 8.5"
---
"Funny, blithe, whip-smart, hilarious, of the moment and of the past, despairing yet hopeful, melancholic yet joyful -- these are a few of the words that come to mind after reading Duncan Birmingham's blissfully delightful collection of short stories. THE CULT IN MY GARAGE has it all."-Jonathan Ames, author of The Extra Man and the creator of BORED TO DEATH."Duncan Birmingham spins piercing tales populated by desperate characters trying to find their place in an ever-changing world. He's talented, he's funny, and he's a true weirdo. Enjoy a walk through his charmingly bananas brain."-Sara Benincasa, author of Agorafabulous! and Real Artists Have Day Jobs"The Cult in My Garage is the rare book that made me laugh alone in my room, made me pick up the phone and tell my sister, you should read this."-Bud Smith, author of Double Bird and WORK"If it were 1955, Duncan Birmingham would be famous for this hyperreal book of sad funny short stories. Partly because people read short stories back then. And partly because only white men were allowed to write back then, so he would have had less competition."-Joel Stein, In Defense Of Elitism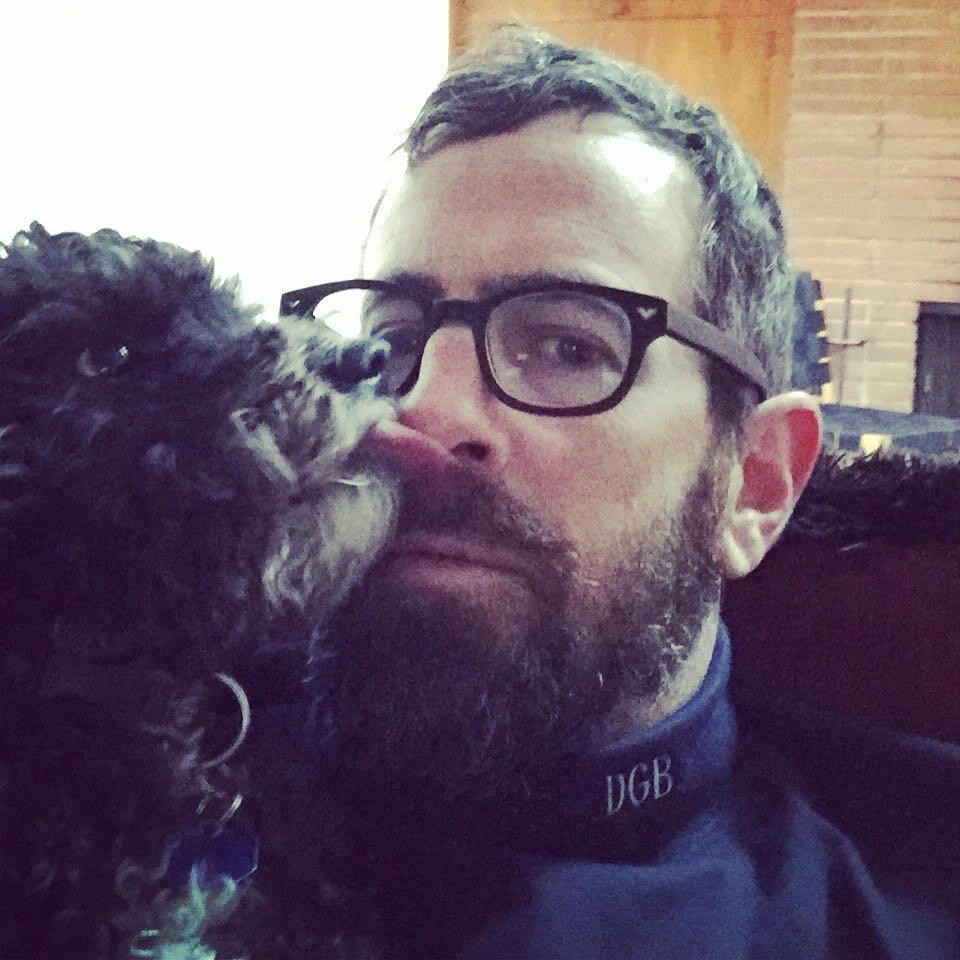 About the author
---
DUNCAN BIRMINGHAM is a writer and filmmaker living in Los Angeles. He's been a writer and producer on numerous tv shows including Maron (starring Marc Maron) and Blunt Talk. Short films he's written and directed have premiered at film festivals including Sundance and AFI. His stories have appeared in literary magazines including Mystery Tribune, Maudlin House, nerve, Juked, 7x7, Brooklyn Vol 1 and Joyland.
---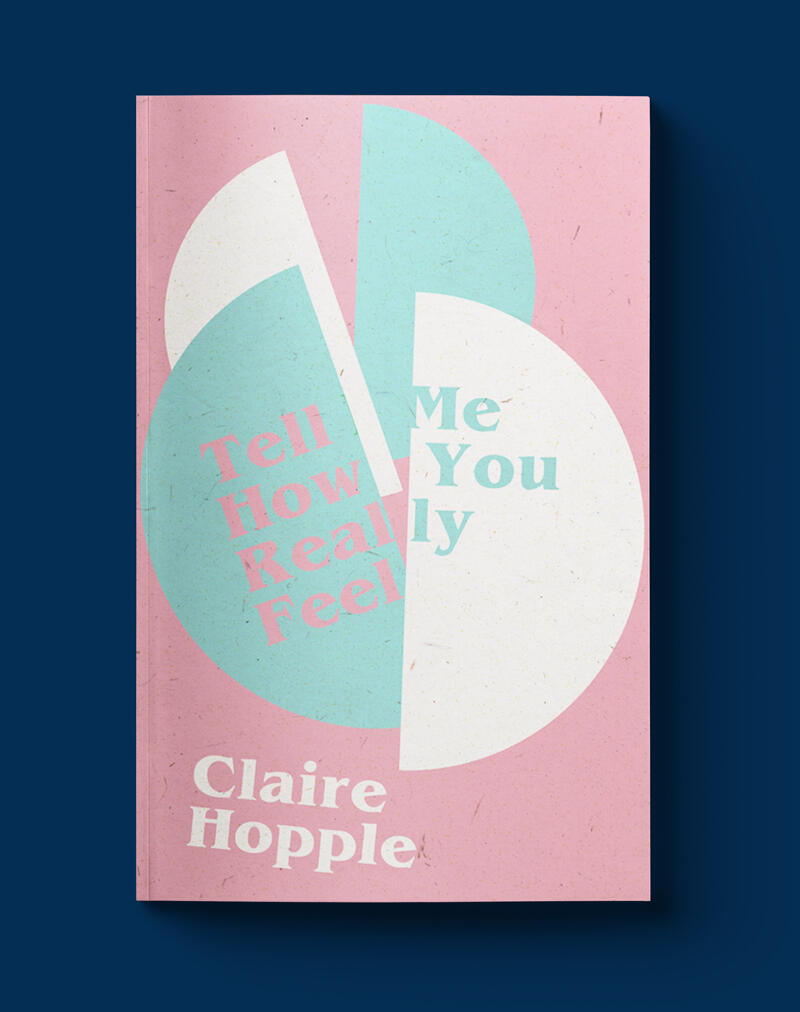 Tell Me How You Really Feel
By Claire Hopple
Uncle Errol throws a funeral for himself. Bootsie spies on her own husband. Joe's band dresses in costumes and plays instruments from elementary school music class. Marco is tired of people shouting "Polo!" over his shoulder. Mallory unlocks the doors between hotel suites in case the person beside her is also searching and alone. Denise eats crayons and goes missing. Gary tries to legally change his name to get back at his sworn enemy. Tell Me How You Really Feel is the only novella set in the municipality of Murrysville, Pennsylvania.
44 PAGES | SHORT FICTION NOVEL | 5.5" BY 8.5"
"In Tell Me How You Really Feel, Hopple conjures her ensemble cast of captivating oddballs through subtle yet electric sentences that read so easy it's as if she simply rolled tape on characters who existed long before she brought them to life and who continue to exist after she calls it a wrap. It seems a magic trick, but it's a true feat—not messing with the destinies of these good, flawed people, having the patience and empathy to allow them their nemesis and failed heroics, their heartbreak and their humor. Tell Me How You Really Feel is flash fiction at its most charming and magnetic."-Kara Vernor, author of Because I Wanted to Write You a Pop Song"Like the old saying, "You're born alone and you die alone," the characters in Claire Hopple's peculiar and very funny Tell Me How You Really Feel are befuddled by most people, dooming them to a life of awkward, sometimes surly, individualism. The concerns of Hopple's lifelike characters thread through each other, creating a cinematic tapestry evocative of a great Robert Altman movie. Combine that with Hopple's sharp delivery and acute sense of details and Tell Me How You Really Feel becomes a small miracle."-Kevin Sampsell"Everything I want to say about Claire Hopple's writing pales in comparison to the writing itself. In her third book of fiction, she effectively reinvents the rules for short story writing for the third time. In Hopple's hands, this is a climax: The dog whimper of the door hinge and it was done. This is a description of emotion: corn-shucked and echoey. This is dialogue: "A Megabus driver is greater than a regular bus driver. It's simple math." This is metafiction, humor, and character development: The cymbals were maybe supposed to be symbols, she would think later. And this is all from the same page. There are 45 more in TELL ME HOW YOU REALLY FEEL. What are you waiting for?"-Tyler Barton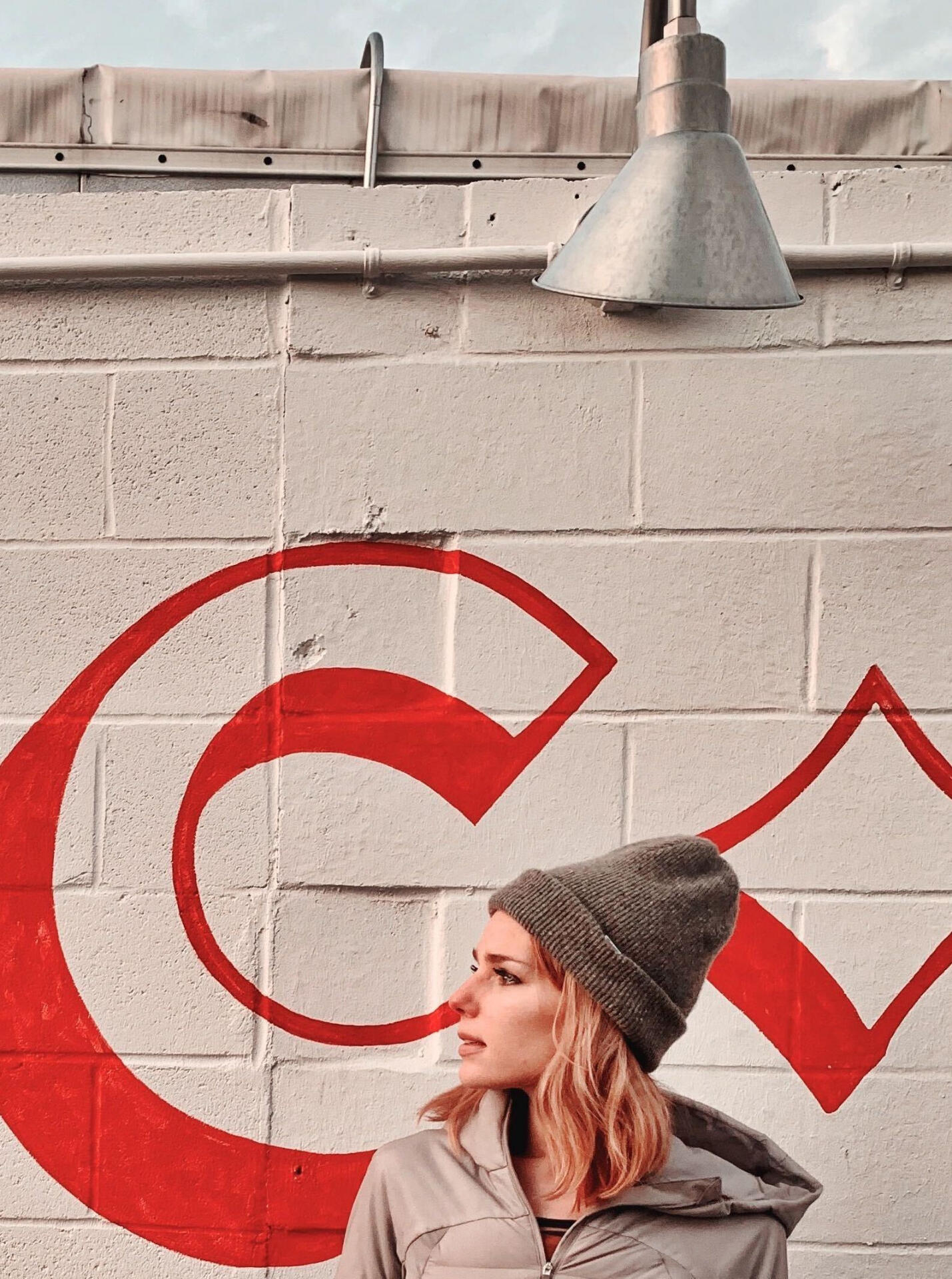 About the author
---
Claire Hopple is the author of two story collections and one novella. Her fiction has appeared in Hobart, Vol. 1 Brooklyn, New World Writing, Timber, and others. She lives with her husband in Asheville, North Carolina. She's just a steel town girl on a Saturday night. More at clairehopple.com
---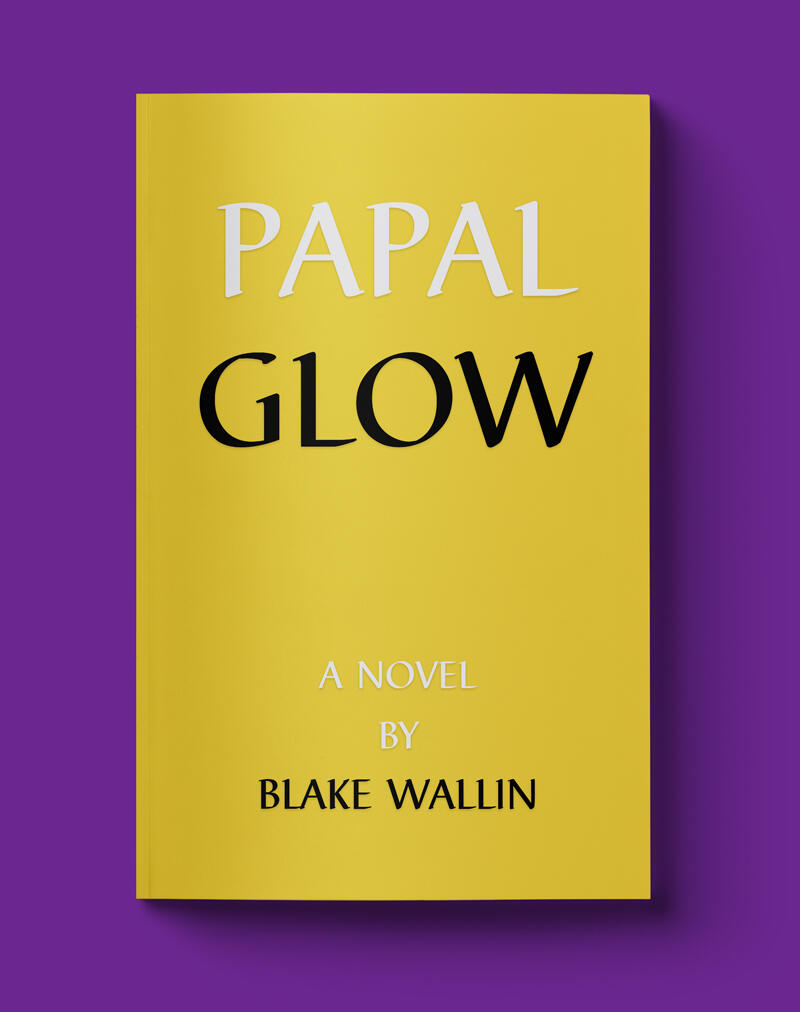 Papal Glow
By Blake Wallin
FOR A LIMITED TIME ONLY $11
(regular price $16)
Papal Glow is the time between centuries, that little dust mote trailing in the sun's glare between folds of the partition that separates the public from true knowledge. It is the preventative strain keeping the powers-that-be at bay while the world swirls by unnoticed. This glow imbues a young boy named Leo, who must use the papacy to divide the time between those centuries, speed up modernity at the very beginning of the 19th century, and oppose the ever-growing reign of Napoleon. But as Leo grows into his papal role, the lines between what Leo wants and can achieve grow smaller as well, until Leo sets up a miracle himself and the time between centuries becomes as small as a dust mote.
230 PAGES | FICTION NOVEL | 5.5" BY 8.5"
---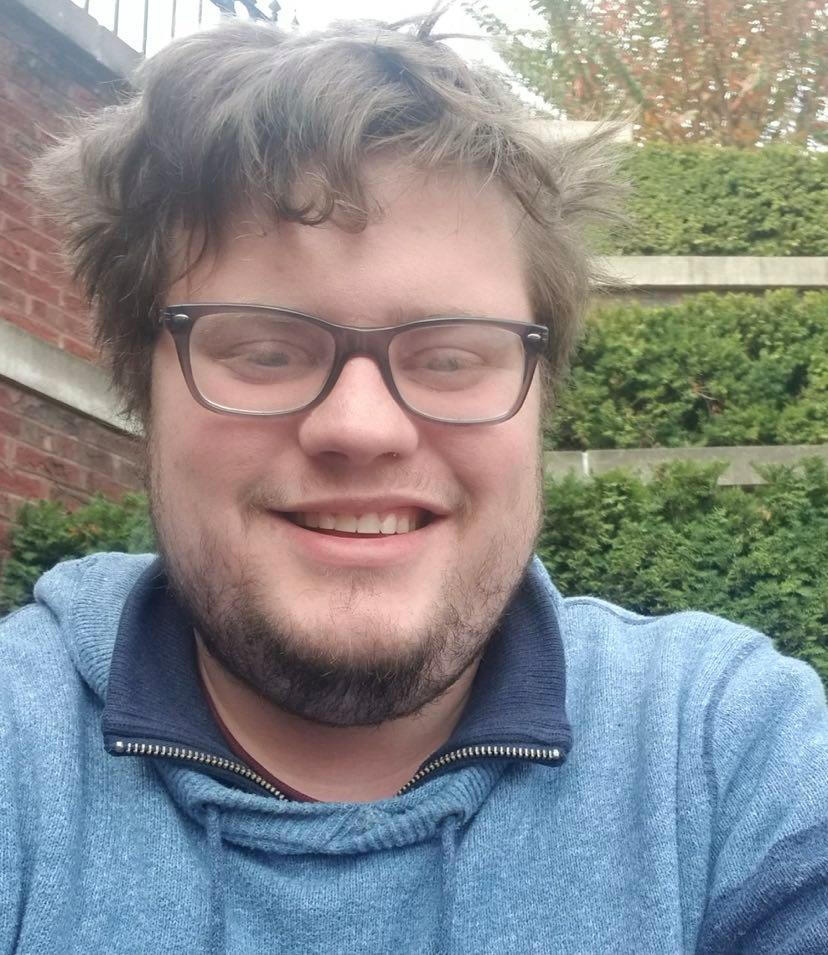 About The Author
---
Blake Wallin is a writer from Atlanta specializing in poetry, fiction, and playwriting. A recent graduate of George Mason University's MFA program in poetry, he attended the 2018 Kennedy Center Playwriting Intensive as well as the 2018 Virginia Quarterly Review's Summer Workshop in Poetry. He is the author of two previous books, No Sign on the Island (Bottlecap Productions) and Occipital Love (Ghost City Press).
---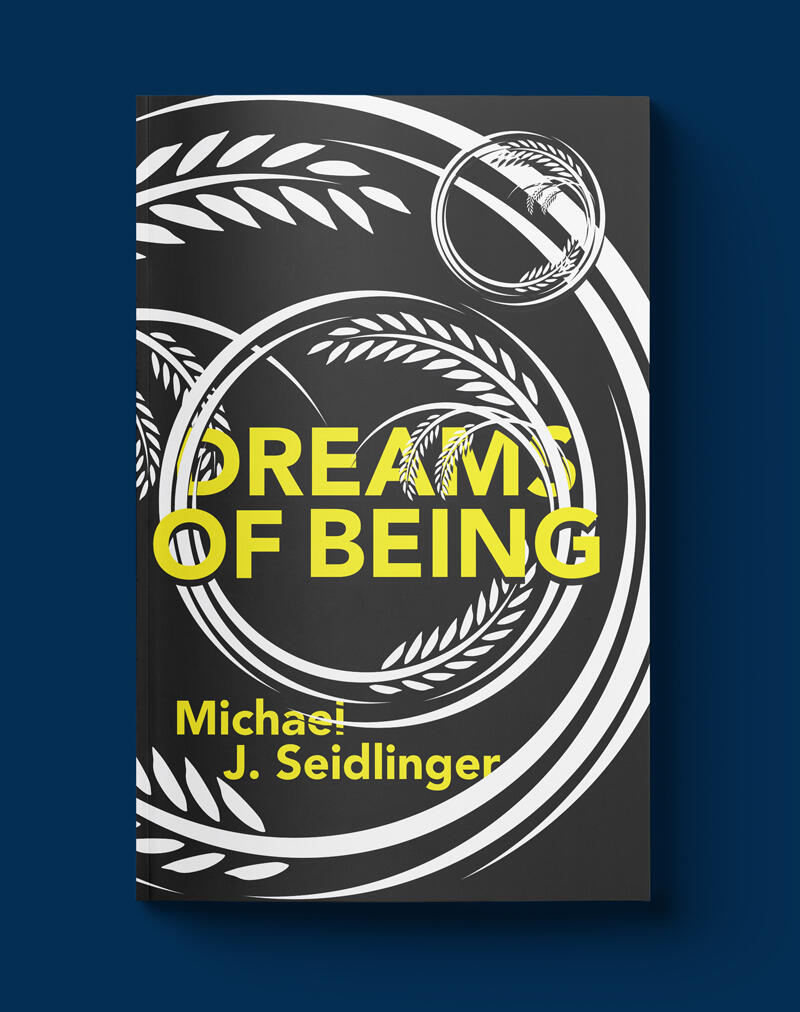 Dreams of Being
By Michael J. Seidlinger
A writer walks the entirety of New York City searching for a story, inspiration, anything to give him some direction. While navigating the busier blocks of Times Square, he stumbles upon a restaurant opening and an enigmatic man named Jiro protesting the grand opening. Believing it's the only way to maintain Jiro's interest, he claims to be a director, someone interested in developing a project that reveals to the world Jiro's unseen culinary talent. Eventually, the truth comes out, and he comes face-to-face with what it means to be creative in a passionless world.
188 PAGES | FICTION | 5.5" BY 8.5"
"Dreams of Being is a taut journey into the fantasy of perfection. A novel with powerful pulse about a person seeking out a hero, hoping to understand themselves. Michael Seidlinger writes beautifully, with purpose, with skill."-Bud Smith, author of Double Bird"I never trust people who use a middle initial, but Michael J Seidlinger is different. When I read his writing, I'm on my back, I'm having my behavior corrected: It's teaching me a lesson. And I can see stars."-Scott McClanahan, author of The Sarah Book"Michael J Seidlinger understands the messy mysterious business of being human, and of also looking to be wanted, needed, and validated."-Ron Currie, author of The One-Eyed Man"Seidlinger continues his quest to become a literary chameleon, diving into new genres and remixing them into something wholly his own. His is a kingdom without borders."-Joshua Mohr, author of Sirens"Dreams of Being is a fever dream, a religious text, a writer's notebook, a case of mistaken identity, a love letter. Jiro is one of the most fascinating characters you will ever read, and this is Michael Seidlinger at his very best, his sentences full of his particular energy and verve. Start here. Open this book and get lost in Seidlinger's dream. You will be drawn in by the complexity and wonder of Jiro's story and the mystery of how to tell it and what it takes to make meaning."-Matthew Salesses, author of Disappear Doppelgänger Disappear"Take one unexpected yet hard-won friendship, mix in sensory delights via the culinary arts, sprinkle in the pathos of (lost and found) aspirations, and you have Michael J Seidlinger's Dreams of Being. In this close narrative, Seidlinger captures the doubt, desperation, and deceit involved in finding purpose. Ultimately, is this "purpose" of our own making, or is it a prescribed notion to become someone manifested by and for others? Dreams of Being captures the relatable fear in being who we are, complexity and all."-Jennifer Baker, editor of Everyday People: The Color of Life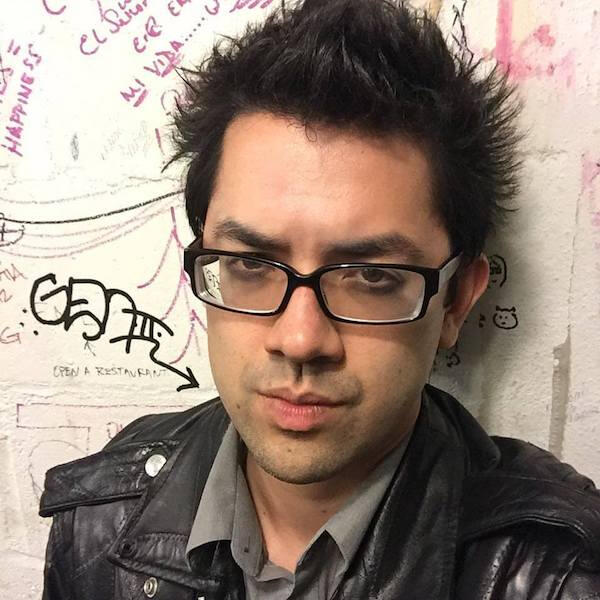 About the author
---
MICHAEL J SEIDLINGER is a Filipino American author of My Pet Serial Killer, Dreams of Being, The Fun We've Had, and nine other books. He has written for, among others, Buzzfeed, Thrillist, and Publishers Weekly, and has led workshops at Catapult, Kettle Pond Writer's Conference, and Sarah Lawrence. He is a co-founder and member of the arts collective, The Accomplices, and founder of the indie press, Civil Coping Mechanisms (CCM). He lives in Brooklyn, New York, where he never sleeps and is forever searching for the next best cup of coffee.
---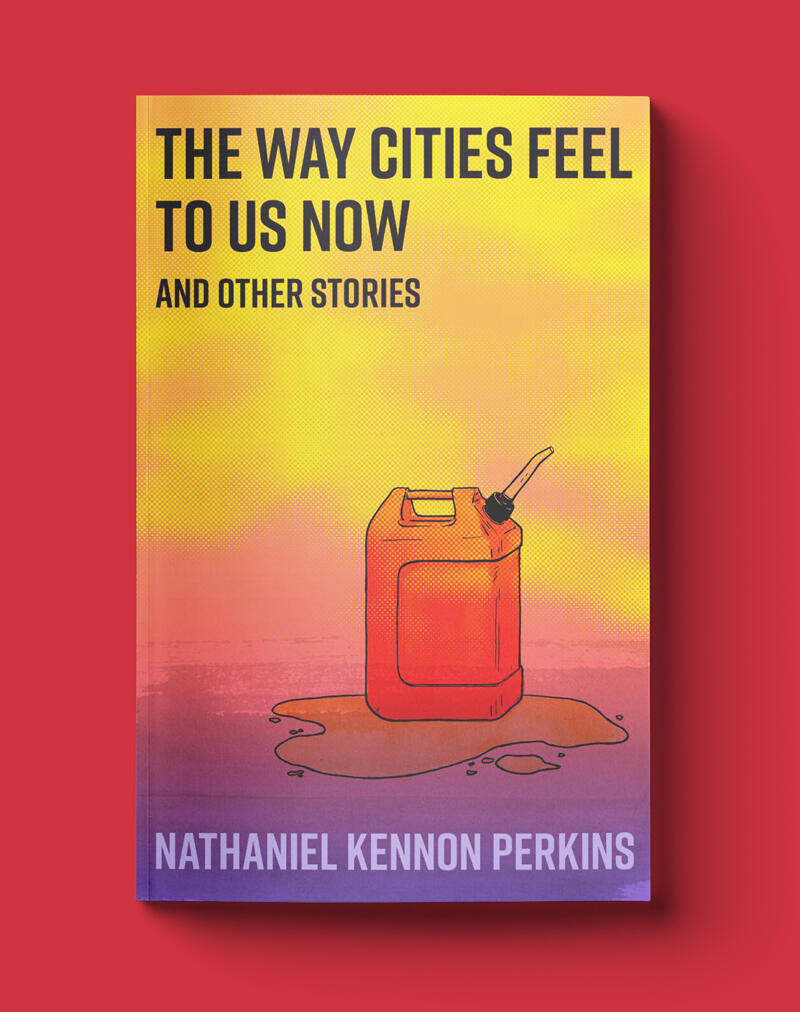 The Way Cities Feel To Us Now
And Other Stories
By Nathaniel Kennon Perkins
Bad luck follows travelers through the desert, Mormon missionaries contemplate the bodily implications of the internal combustion engine, and minimum wage workers look for a sense of meaning in art, country and western music, and domestic terrorism. A lemon tree produces an alarming number of fruit, but nobody can manage to have a threesome. Perkins's first collection of short stories vibrates at the chaotic frequency of the American West, a place where the states are square, the drives are long, and heartbreak is at least as much of a shit show as it is anywhere else.
170 PAGES | SHORT STORY COLLECTION | 5.5" BY 8.5"
---
"In the Western Lands there are people who believe in its landscapes and cities like a secret cult. To be let into this cult you have to visit several locations, Portland, its National Parks, Boulder, Santa Fe, Tucson, Flagstaff and the great Eugene. Every Western junkie knows this conversation, "Hey, you've been to Eugene, twilight at Skinner's Butte is the best." "Hey, you've been to Zion, I walked the Narrows during a flood, didn't know if I would come out alive." "The buskers in Santa Fe are the best." Nate Perkins lets you into this world of travelers, the secret passwords that allow you into the Western Lands."-Noah Cicero"Depression makes most people's memories collapse inward onto themselves. Perkins struggles with himself but knows the beautiful punctures on the the stick-and-poke world around him."-Brendan Wells, of Uranium Club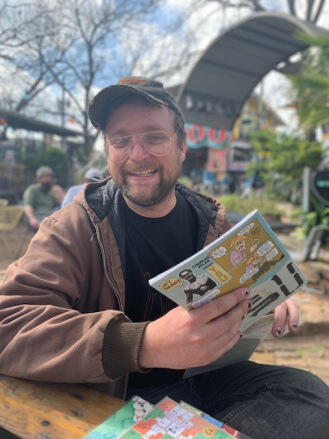 About the author
---
Nathaniel Kennon Perkins lives in Boulder, CO, where he works as a bookseller. He is the author of the short novel, Cactus, and the ongoing literary zine series, Ultimate Gospel. His creative work has appeared in Triquarterly, High Country News, the Philadelphia Secret Admirer, decomP magazinE, Pithead Chapel, Timber Journal, and others. He runs Trident Press.
---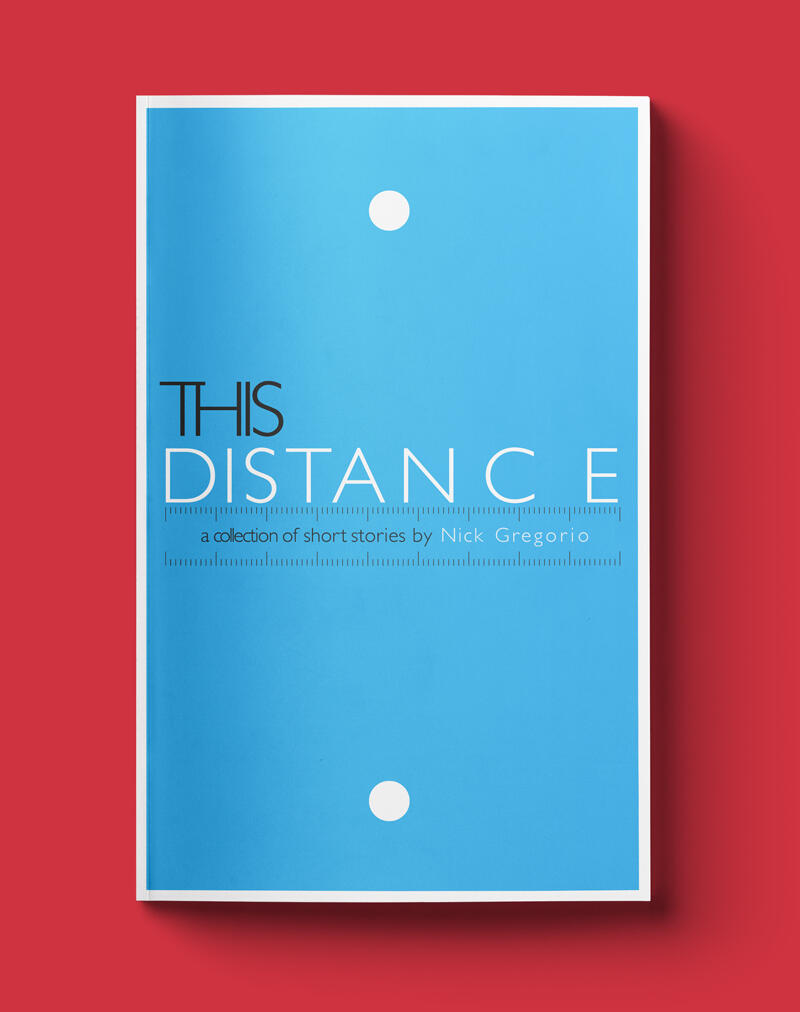 This Distance
by Nick Gregorio